Loop Editor
---
The Loop Editor is a featured editor to create drum (and other instruments) loops. It supports:
Unlimited beats
Unlimited instruments
Custom repeat per instrument
Unlimited resolution for speed (default 1/8)
Unlimited repeats
MIDI Programs and SF Presets and MIDI Channels
Flam positions
Movement of notes per beat
Swinging beats
Inline piano roll
Effects per instrument when used with Turbo Play VSTs
Use the default drumkits or any other VST as a MIDI program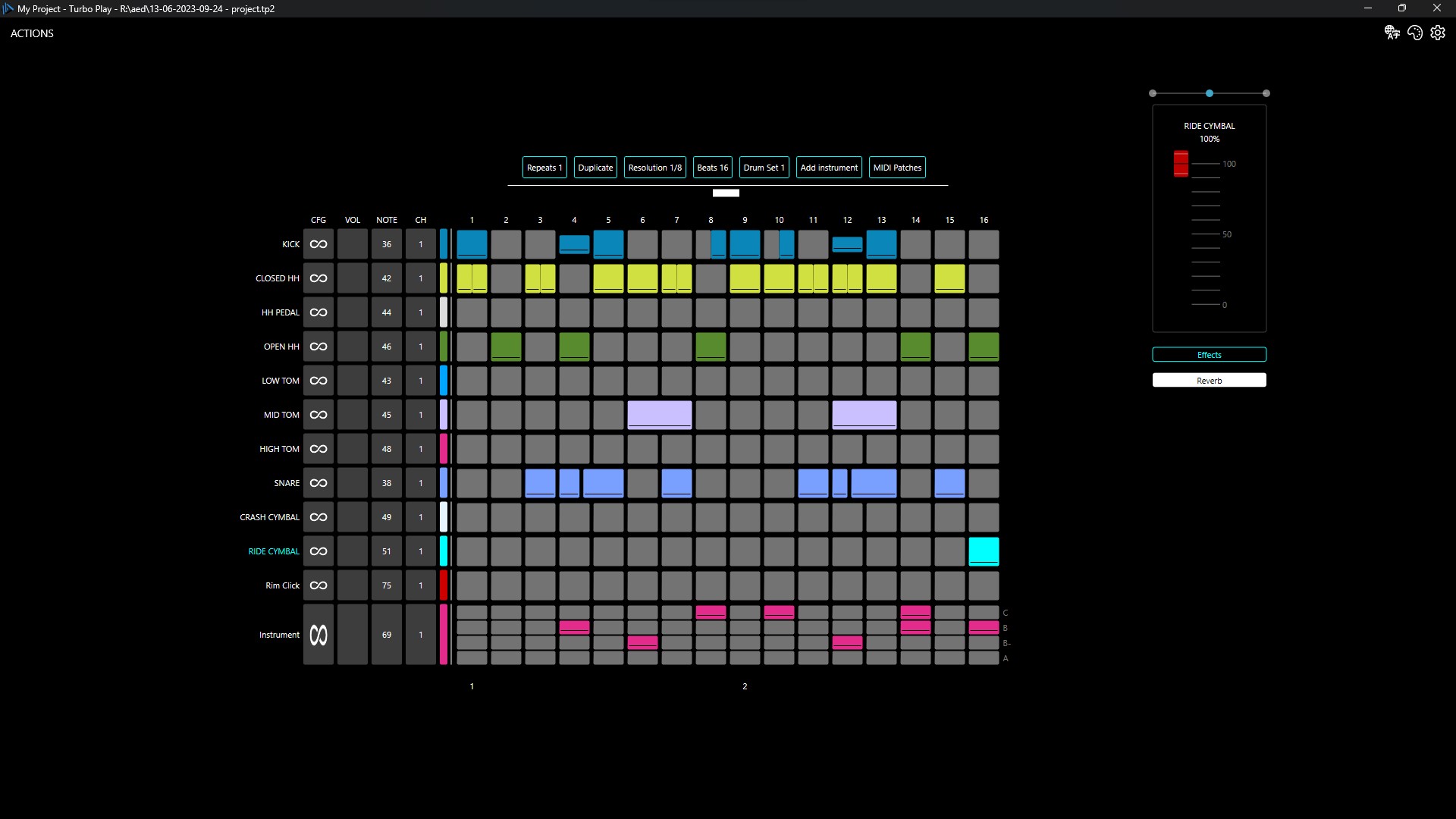 Turbo Play provides many ready to be used drumkits. When the track containing a loop part has not a VSTi already, a default TR-808 general midi is added. The drum loop supports beats with selectable MIDI channels, MIDI notes or SoundFont presets.
The drum loop also features an inline piano roll so you can create melodic loops for non drum instruments.
The drum loop can also generate DMX messages for controlling lights. You can select a DMX channel (1-512) for each instrument and the light will be turned on when this instrument plays. For more, see
DMX
.
When used with the Turbo Play
Sound Font
VST, then the drum loop can also:
Use the mouse to manipulate the beats and, in addition, you have the following keyboard shortcuts:
| | |
| --- | --- |
| F,Shift+F | Flam position add/remove |
| Add/Subtract | Velocity |
| T/U | Tie/Untie beat |
| Up/Down | Move instrument (or MIDI program) |
| Shift + Up/Down | Move SF Preset |
| < and > | Move MIDI note inside the beat |